Philadelphia has always been a strong-willed city known for its rugged, blue-collar work ethic and never-say-die attitude. If you were to break down the city into smaller pieces, South Philadelphia is the core of that fighting spirit. It was built on the backbone of hard-nosed workers and immortalized by the iron chin of Rocky Balboa.
Throughout the history of this city, the one release that its residents have always enjoyed is sporting events. Although their passion is often misunderstood and misrepresented in the national media, there is no denying that Philadelphians are a passionate bunch when it comes to their home team. As such, it would be borderline lunacy to glorify any three buildings other than those that best personify South Philadelphia, as well as the city as a whole: Citizens Bank Park, Lincoln Financial Field, and the Wells Fargo Center—perhaps better known locally as simply "the sports complex."
Citizens Bank Park, located at One Citizens Bank Way in South Philadelphia, is the youngest of the three stadiums, officially opening its doors to rowdy Philadelphia Phillies fans for the first time on April 3, 2004 after breaking ground on June 28, 2002. The ballpark was designed by former Air Force pilot and Pennsylvania State University graduate Stanley Cole, who also served as the chief engineer. He had made a name for himself early in his architectural career by helping to design a piece of the United Nations headquarters.1 Populous, an architectural firm specializing in sporting designs, also contributed to the project, which cost $458 million.2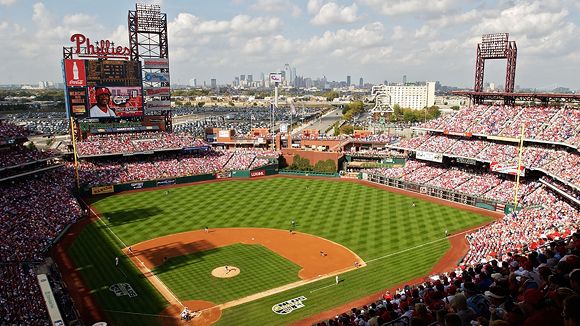 Citizens Bank Park
Photo Credit: ESPN
TripAdvisor recently named Citizens Bank Park the sixth best ballpark in all of baseball, citing its lowered playing surface (23 feet below street level), which combined with its bowl-style seating, helps to create an epic skyline of downtown Philadelphia.
3
More than a full year after Citizens Bank Park broke ground, Lincoln Financial Field, located at 1020 Pattison Avenue in South Philadelphia, opened its doors to fans of the Philadelphia Eagles, and it has since hosted a number of sporting events, including the city's professional soccer team—the Philadelphia Union—for one season in 2010, as well as Temple University's football program, from 2003 to the present.

Unlike their baseball neighbors, the football group's ownership did not name a single architect as the head of the project. Instead, the title of "project manager" belonged to KUD International4, with architectural firms NBBJ and Agoos Lovera Architects also contributing to the stadium's design.5 The project cost $512 million.
Lincoln Financial Field with wind turbines.
Photo Credit: Inhabitat.com
Lincoln Financial Field has been marred with a number of controversies, the most serious of which was a 2006 report that one of the bridges connecting the upper levels of the stadium had been swaying. However, following an investigation, no issues were reported.
6
Lincoln Financial Field also harbored a dubious trait that its predecessor, Veterans Stadium, had earned—a jail inside of the stadium. The four cells were done away with in 2005, however, as the unruly behavior seen in the infamous "700 level" of Veterans Stadium did not carry over into the Eagles' new home.7
Outside of those minor concerns, Lincoln Financial Field has consistently drawn rave reviews. Prior to the 2013 season, NESN named the stadium the ninth best in all of football.8 The Eagles have also drawn praise for their commitment to green energy. This offseason, the organization installed 11,000 solar panels to accompany their previously existing 14 wind turbines.9 In this way, the Eagles have been truly revolutionary, as far as stadiums are concerned.
Lincoln Financial Field is also the only stadium on the list to have a big role in a major Hollywood film, as parts of David O. Russell's Silver Linings Playbook was filmed on location.10 As one could assume, its function was simple: The home of the Philadelphia Eagles.
The oldest of the trio is now called the Wells Fargo Center and is located at 3601 South Broad Street, but it has also been called a myriad of other names, including the CoreStates Center (1996-98), First Union Center (1998-2003), and Wachovia Center (2003-10).
The project was led by architectural firm Ellerbe Beckett, which has been functional for more than a century and has designed sports venues (as well as other buildings) across the United States. Opened on August 12, 1996, the arena cost $210 million, which roughly translates to $307 million in 2013 dollars—both of which are relatively cheap when compared against other venues.
Wells Fargo Center
Photo Credit: Wikimedia Commons
While the Wells Fargo Center is home to four of the city's sports teams; the Philadelphia 76ers, Philadelphia Flyers, Philadelphia Wings, and Philadelphia Soul; the arena has also gained a reputation for hosting a number of concerts and other events, including the World Wrestling Entertainment's Wrestlemania XV,
American Idol
auditions, and several versions of the X-Games.
While these three arenas do not have a lengthy history in film, it is interesting to compare how sporting venues are portrayed. For example, the relationship between the passion of Boston Red Sox fans and Fenway Stadium as the setting for Bobby and Peter Farrelly's Fever Pitch.
Sports are interesting, but in Philadelphia, sports are more than just that. These venues represent the fighting spirit of Philadelphia. Some of this city's most iconic and treasured moments involve victory in front of their "homes," like the Phillies marching down Broad Street to arrive in front of Citizens Bank Park in 2008, or the Flyers posing in front of the now-demolished Spectrum twice in the mid-1970s.
These three buildings aren't just "buildings." They are treasured pieces of life here in South Philadelphia. If you were to poll 10 of the city's residents on the street about the most important buildings in Philadelphia, nine would answer with one of the stadiums.
Places like City Hall and the Art Museum, for example, are important and interesting, but neither is intertwined as closely to the heart of Philadelphians as the sports complex. It's the rugged, blue-collar work ethic that leaves those three buildings rocking when a game is happening.
That's why it would be asinine to glorify any other set of buildings in Philadelphia. None are as synonymous with the people as those contained in the beloved "sports complex."
___
6kofsky. "Philadelphia Will Do » Good Lateral Vibrations." Philadelphia Will Do » A blog about the funniest city on earth published by Philadelphia Weekly.. http://willdo.pwblogs.com/2006/10/10/good-lateral-vibrations/ (accessed April 26, 2013).
7"Sports Stadiums." Sports Stadiums. http://www.sports-venue.info/NFL/Lincoln_Financial_Field_Philly.html (accessed April 26, 2013).
8
"Lucas Oil Stadium, Cowboys Stadium Highlight Top 10 Best NFL Stadiums | | NESN.com." NESN.com | Sports News | Red Sox, Bruins, Patriots, Celtics. http://nesn.com/playlist/lucas-oil-stadium-cowboys-stadium-highlight-top-10-best-nfl-stadiums/1/ (accessed April 26, 2013).
10"Movies Filmed At Lincoln Financial Field." Movie Maps. moviemaps.org/locations/24y (accessed April 26, 2013).